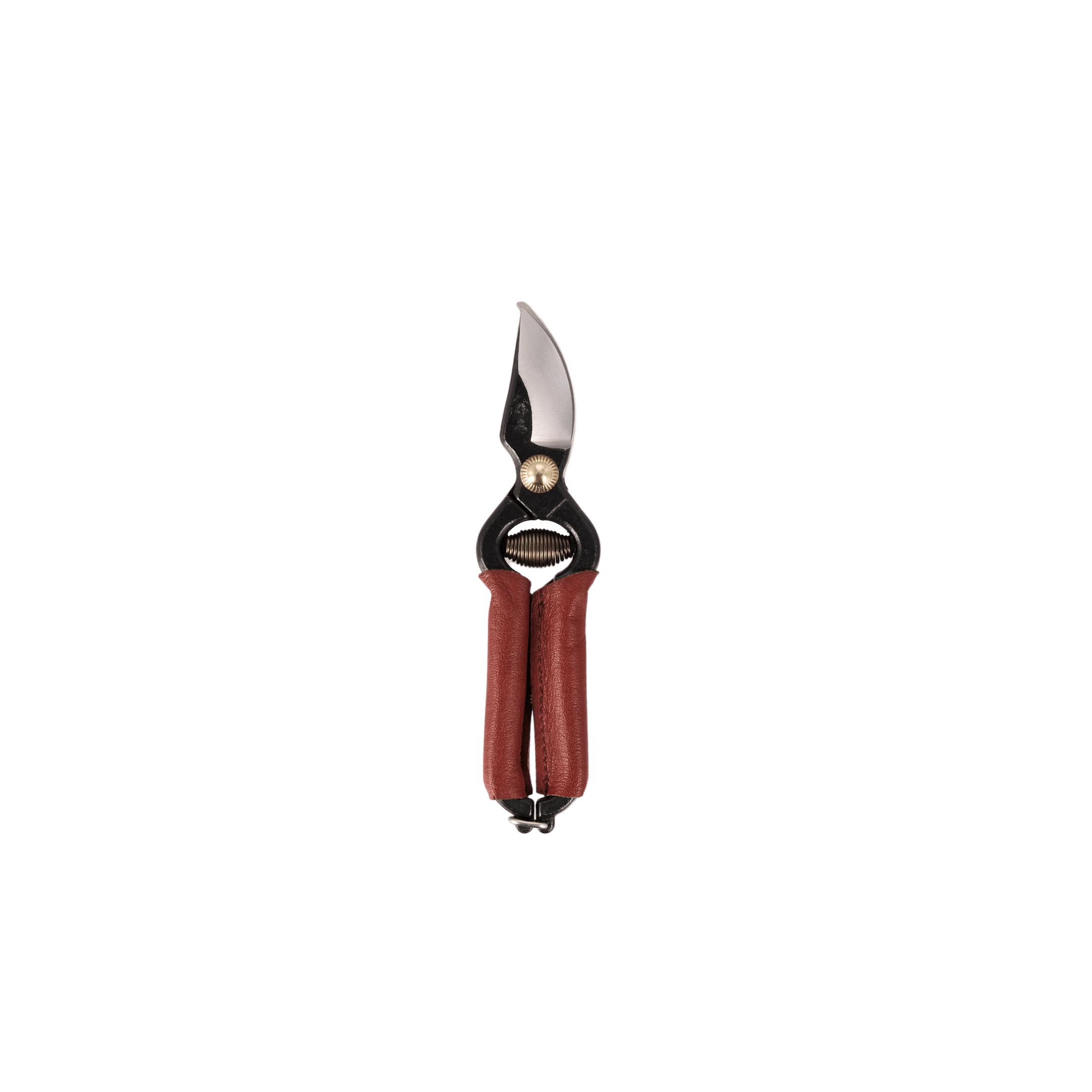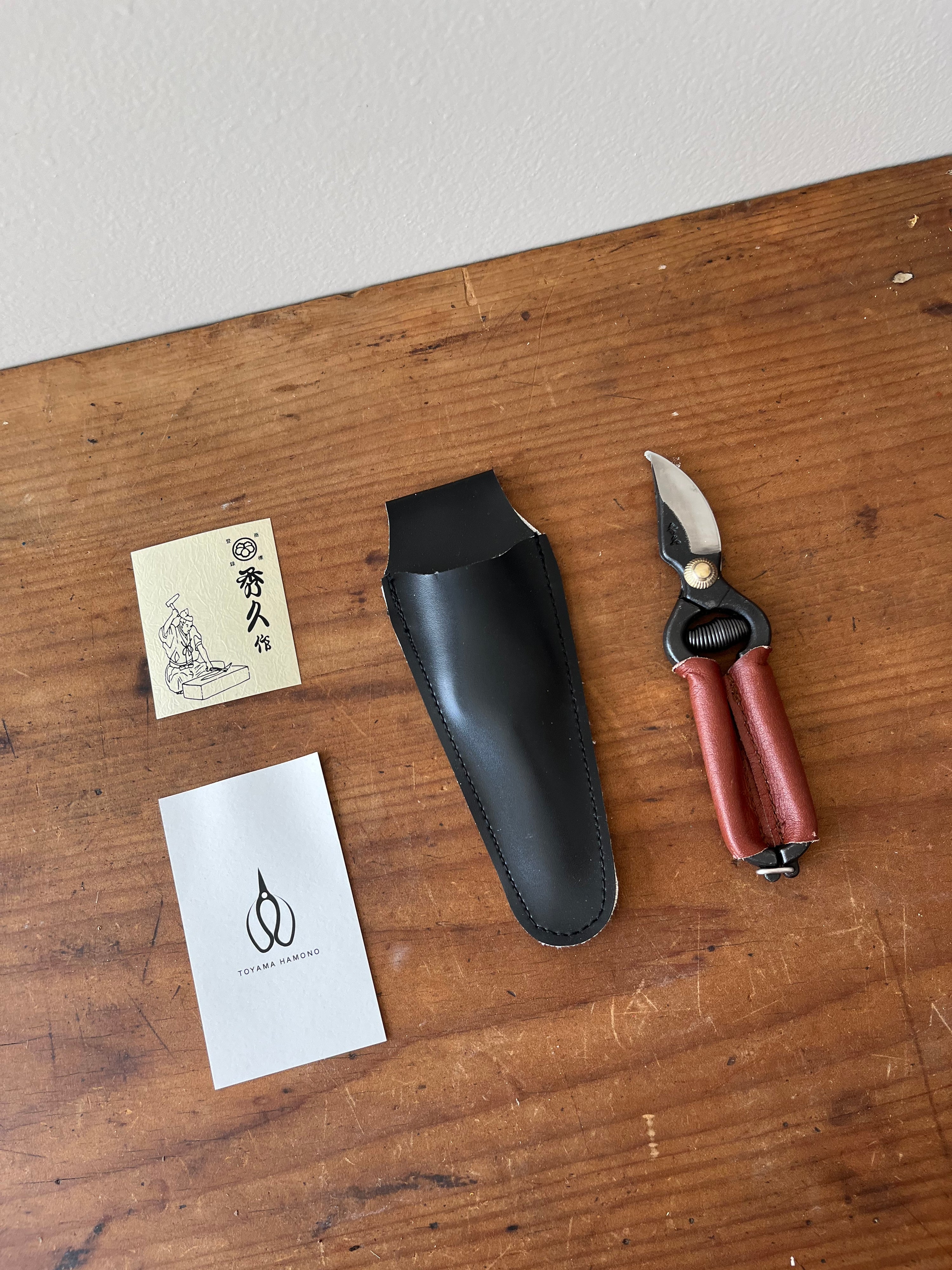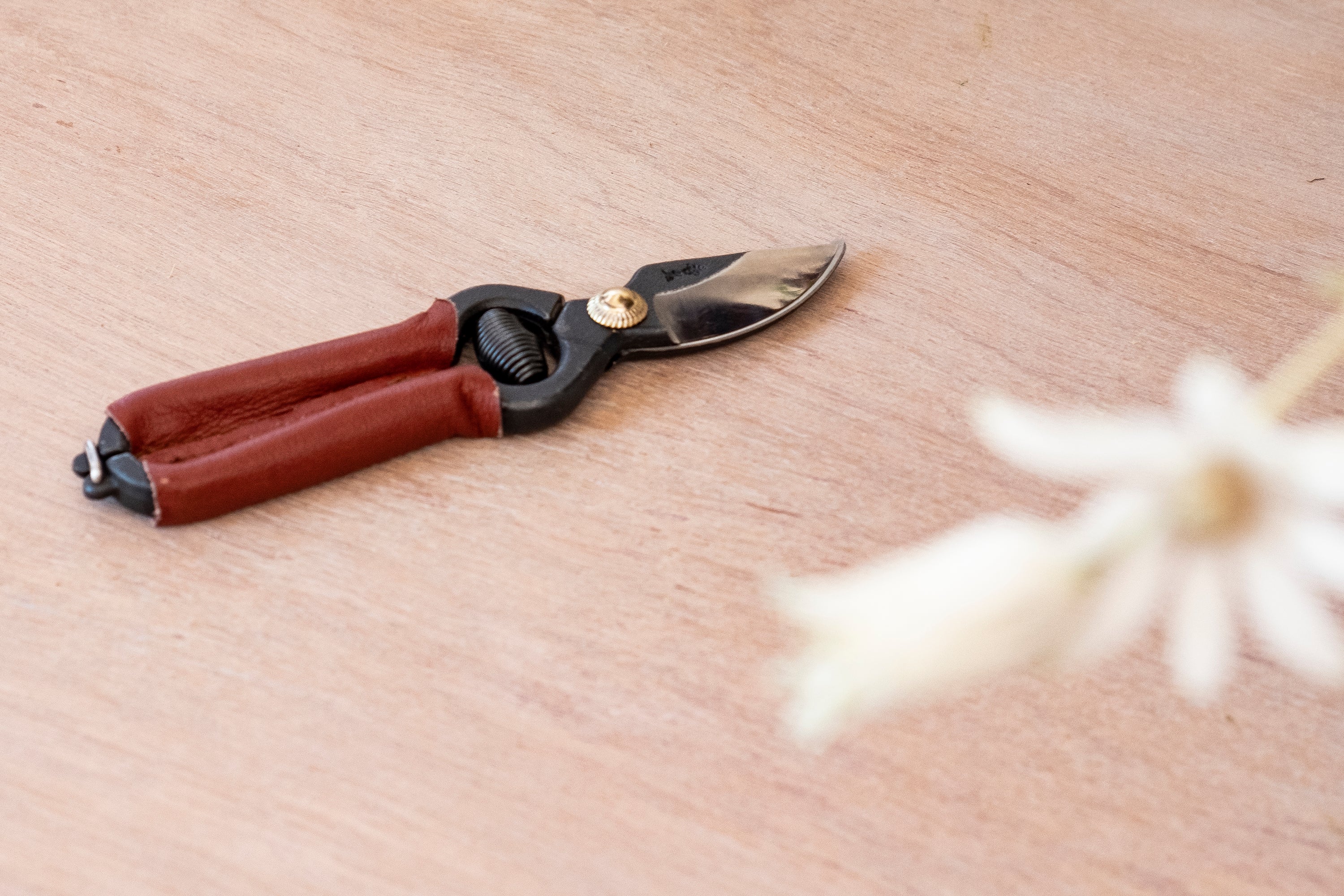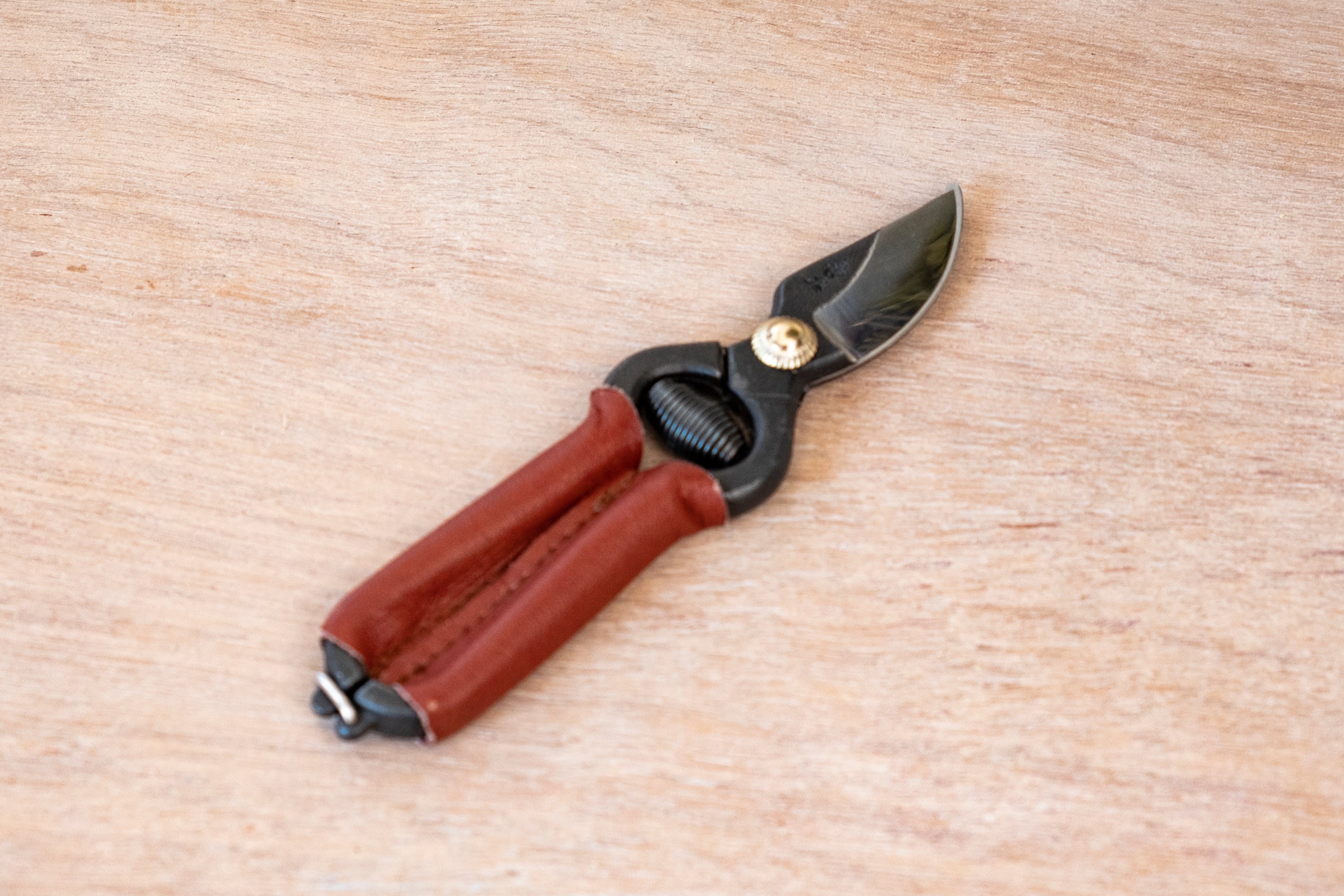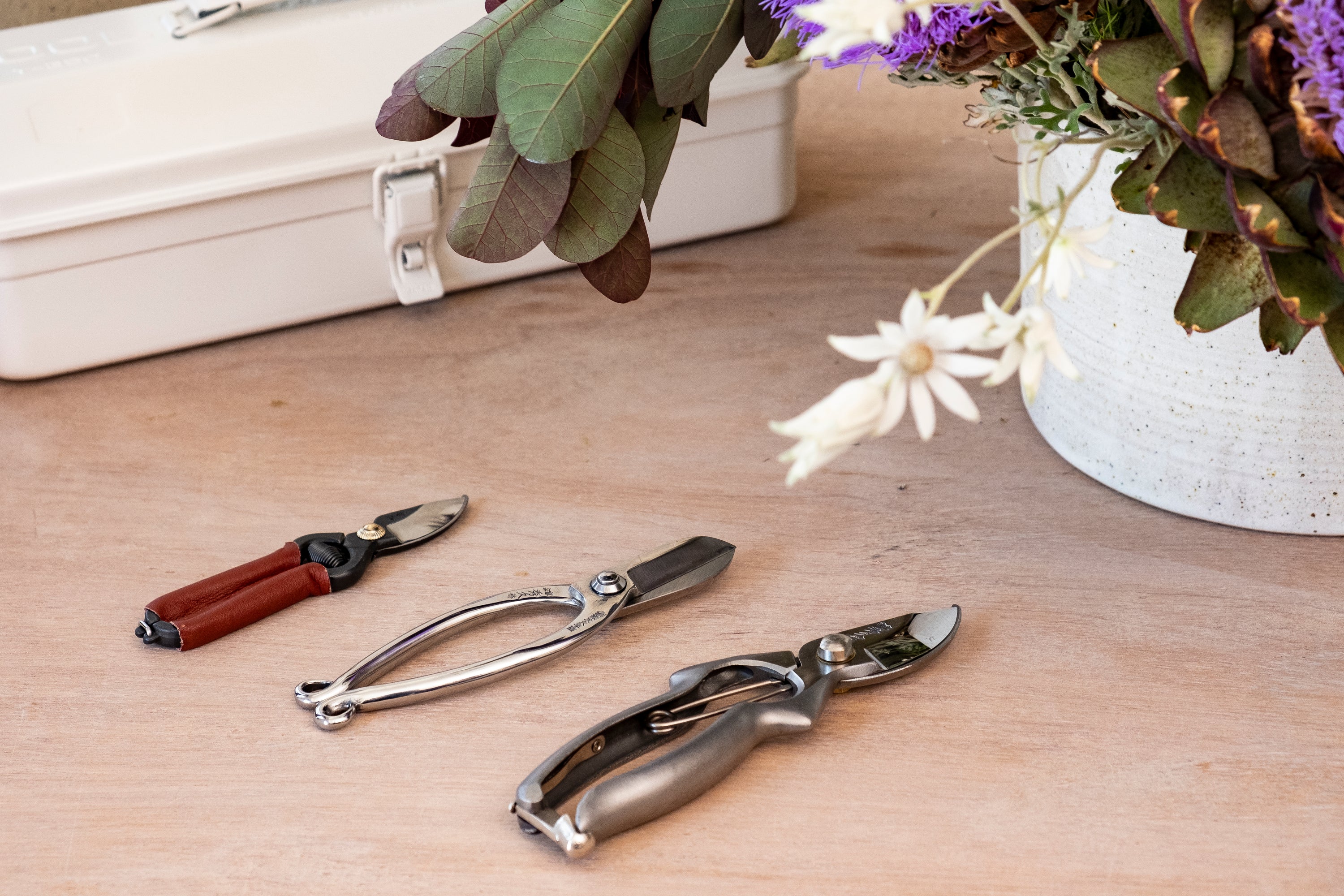 Description
Dimensions
Care Instructions
These miniature secateurs will tug at the heartstrings of even the most seasoned gardener. Small enough for the whole pair to fit across the palm of the hand, they come with a vinyl sheath that can be attached to a belt or basket to keep these little beauties close by.

A perfect partner to roadside flower hunters and florist adventures. Keep them in the side pouch of your weekend bag or hide them in the glovebox of your car. These cute minis are the perfect clipper to keep by your side, for any floristry or Ikebana project.
Their blades are forged with high carbon steel, creating excellent cutting edges and resharpenability. 
The simple detaining latch can be unclipped single-handedly by holding the secateurs vertically and giving the arms a gentle squeeze. They are simple, quick, convenient and sharp.
Toyama Hamono have specialised in making pruning shears, snips and secateurs since early 1860's. The handles for these are drop forged and edge is sharpened to a beautiful convex curve. They come boxed with a blade sheath and will make the thoughtful gift for any passionate gardener or florist.

Note: With faux leather trim, this product is vegan friendly.
Overall Length: 140mm
Blade length: 45mm
Weight: 90g
Material: Japanese high carbon steel, faux leather trim
For best care of this product, keep it clean & dry, stored in the faux leather case which comes with the product.

We also advise regular clean & care routines of the Japanese secateur range.

To help with this we advise the use of two products which are stocked in our stores Ikebana range.

Yanipika Japanese blade cleaner
This spray clears residue left on the blade and keeps it from tarnishing. Helping your clipper blades move freely, extending the life and function of your favourite tools.

It is a great use for florists who like working with Australian natives & other branches which transfer sap & other thick residues onto tools.

Camelia Oil
We stock this in a 100ml droplet bottle, which will last for years to come. Camelia oil is a light oil, that creates a thin membrane over the surface of the metal & blocks moisture. A traditional method for maintaining carbon steel tools. Use it regularly to improve the life and function of your favourite tools.